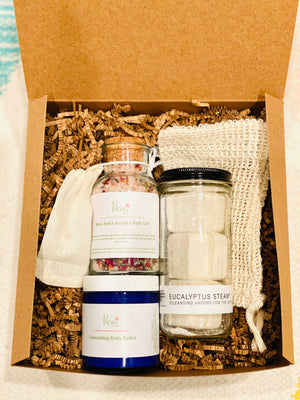 The Green Tap
The "You Time" Bundle
Sale price Price $55.00 Regular price Unit price / per
Whether you choose the bath or a shower it is YOUR time to relax and pamper yourself. Let us help.
Eucalyptus Steam Jar- No Tox Life- The cleansing vapors of eucalyptus are well known for deep support of respiratory health. These are combined with peppermint for an awakening and refreshing shower.
Bath Salts (bag included)- Pure by KD. Rose and Lavender bath salts are the perfect way to unwind. Place the desired amount in your reusable bag and let them soak into the water to release their beneficial properties.
Body Butter- Pure by KD- This Grounding Body Butter helps you feel more grounded and helps your skin for nourished.
Exfoliating Bag with Bar Soap