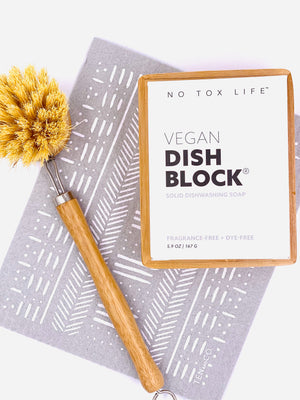 The Green Tap
Zero Waste Dishes Bundle
Sale price Price $29.50 Regular price Unit price / per
Sponge Cloth
Dish Brush 
Dish Washing Block
Soap Shelf
The eco-friendly Ten & Co Swedish Sponge Cloths replace the use of up to 17 rolls of paper towel, reducing the plastic packaging and overall waste in landfills. 
The Dish Brush has a teak wood handle and has a removable head that can be replaced. The handle will last for a few years while the head can be changed after between 1-6 months.
No Tox Life created this Dish Washing Block that is a cleaning powerhouse with a rich, sudsy lather. Cuts stubborn grime and grease on dishes, pots, and pans. With added aloe vera to be gentle on your hands. Completely unscented and fragrance-free. Can also be used around your home on stains, rugs, counters and more. It can replace 3 bottles of dish soap!
No Tox Life used the beautiful and renewable plant, Moso Bamboo, to create our Moso Bamboo Soap Shelf, a perfect dry resting spot for our Dish Block® dishwashing soap.