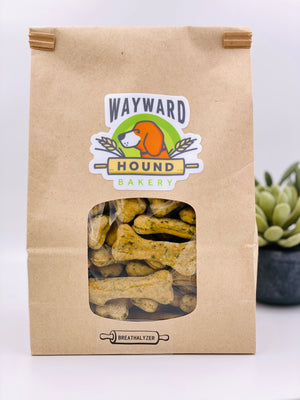 Wayward Hound
Wayward Hound Dog Treats- Breathalyzer
Sale price Price $12.00 Regular price Unit price / per
Wayward Hound Dog Treats
We aren't just baking for dogs, we are baking for the families who love them and love giving their dogs something special that they can feel good about! At Wayward Hound Bakery we truly feel each dog we serve is a part of our pack and we are honored to feed you. 
The recipes have all been updated and expanded focusing on today's health trends and tastes.  As always I use only the highest quality ingredients, no chemicals, fillers, or additives.  All our treats are made in small batches, from scratch, and hand cut! But most important to dogs is that they taste great! 
The Green Tap and Wayward Hound are working together to help reduce the use of extra waste by offering refills on dog treats. When you order your refill, specify the amount and just leave something outside that we can transfer your treats into!
Small changes make a big difference!