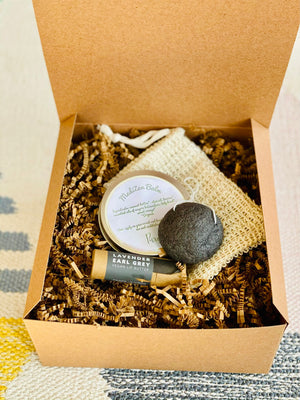 The Green Tap
It's the Small Things
Sale price Price $34.00 Regular price Unit price / per
We took some of our favorite self care products and put them into one perfect bundle to make a great gift for friends, family members, or teachers! 
Zero Waste Lip Butter - No Tox Life-  These are packed with moisturizing organic cocoa butter and avocado oil. Wildcrafted plant wax is used instead of beeswax, so it is completely vegan! It lasts on your lips 4-8 hours and has a matte finish.
Exfoliating Bag- These bags help provide a longer life to soaps by letting you use small pieces and helping soap dry fully between uses. It is made from medium-soft fibers so it is great for daily exfoliating of the body.
Luna Charcoal Face Sponge- These are created in Japan using the roots of the konyakku plant, a food staple for more than 1,500 yeras in Asian cultures. These sponges are idea for daily use, especially for those with sensitive skin and acne prone skin. And, they are so cool looking!
MediZen Balm- Zen in a tin.  Apply to wrists and breathe deeply.