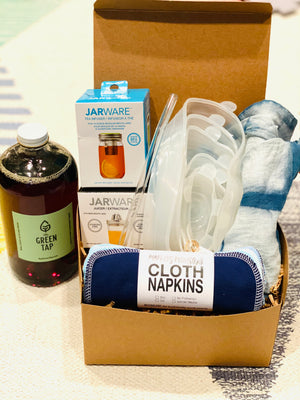 The Green Tap
Mellow Mornings
Sale price Price $110.00 Regular price Unit price / per
Organic Vermont Maple Syrup- Butternut Mountain Farms (sold in a glass bottle that can be refilled with us to help reduce plastic waste!)
Juicer- Jarware Juicer- transforms jars into your new favorite citrus juicer! Yum. And no mess!
Tea Infuser- Fits regular mouth mason jars.
Cloth Napkins- Marley's Monsters 100% cotton flannel napkins are super soft and absorbent.
Linen Bread Bags- Grace in Awake is based in Brooklyn, NY.  These bags keep your bread fresh on the counter for a few days without the use of plastic wrap or plastic bags. They are made using upcycled, natural textiles and natural dyes. They are so beautiful and each one is unique!
Glass Straw- No metal taste, no hard edges to worry about, and clear so you can see if they are clean. These straws are easy to clean and keep your drinks tasting just how they should. And, they are zero waste and don't add to the plastic ending up in the oceans. Win win.
Silicone Bowl Covers- These are game changers. No plastic wrap or foil needed anymore. These stretch and stay put. This set of 6 are leak proof and can go in the microwave, dishwasher and refrigerator. Made by NaturaPure.
*THESE CANNOT BE SHIPPED AND ARE ONLY AVAILABLE FOR LOCAL DELIVERY