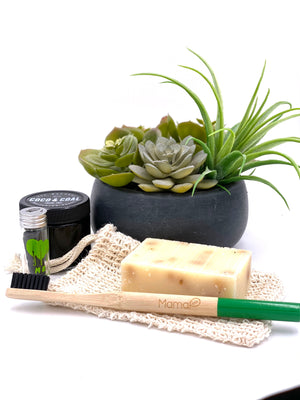 The Green Tap
Zero Waste Bathroom Basics Bundle
Sale price Price $48.00 Regular price Unit price / per
Bamboo Toothbrush*
Bamboo Hairbrush
Charcoal Tooth Tar
Exfoliating Bag
Lavender Bar Soap
Eco Dental Floss
*Be sure to write which color toothbrush you would like in notes section at checkout.
MamaP Bamboo Toothbrushes are such fun colors and even use recyclable nylon bristles. MamaP donates a portion of her sales to different organizations based on the color toothbrush.
Me.Mother Earth- Bamboo hairbrush and Eco Charcoal Dental Floss
No Tox Life- Exfoliating Bag- excellent for exfoliating your skin and for helping bar soap last longer!
Vermont Soap Company- Lavender Bar Soap