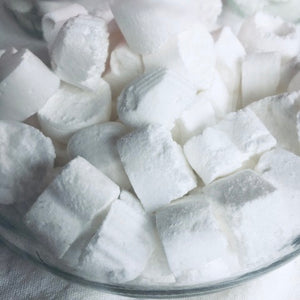 Sustainable Haus
REFILL: Sustainable Haus- Dishwasher Pods
Sale price Price $4.50 Regular price Unit price / per
Dishwashing Detergent Pods
Sustainable Haus is located in Summit, NJ. They have a passion for the environment and our own health.  By combining a love of visual arts and design with eco-friendly and fair trade practices, they create or curate unique items from organic, recycled and vintage finds, with each item serving a useful purpose and most saving you money over the long term while being plastic-free, package-free and most products are fully compostable at end of life.  In fact, most products help the environment in multiple ways.  The result is quality home goods, at affordable prices, creating healthier and more sustainable homes for our families and the earth. 

Directions: 1-2 pods per load. (1/2 to 1 each in prewash and wash cycle).
A 32 oz jar will have approximately 30 pods, cleaning up to 30 loads.
Ingredients: Baking Soda, Citric Acid, Castile Soap, Filtered Water, Organic Essential Oils.

For home cleaning use only. Keep away from children. Avoid contact with eyes or broken skin. In case of emergency, flush with water liberally and call doctor.