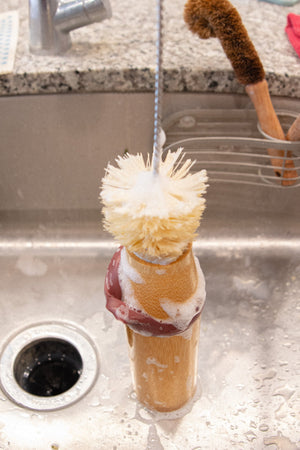 No Tox Life
Casa Agave Large Brush- Long Flexible Metal Stem
Sale price Price $8.98 Regular price Unit price / per
The CASA AGAVE® brushes are an easy replacement for your plastic dishwashing and vegetable brushes in the kitchen and home.

With a white teakwood handle and medium weight agave fiber bristles and a metal flexible stem.

Replaces: Plastic dish and general cleaning brushes.

EXTRA LONG  BRUSHES | WITH METAL FLEXIBLE STEM - two extra long brushes with agave fiber bristles. Gets into most gallon or two gallon growlers with wide mouths. This is not suited for narrow bottles, best for openings 1 1/2 inches or wider. Has a flexible metal stem to allow cleaning inside larger jugs, vases, etc.

Longevity: Each brush can be used for 1-3 months or longer depending on frequency of usage and proper storage. Make sure to not submerge or soak the wooden parts in water. Hang to dry or place in a dry spot after using it.