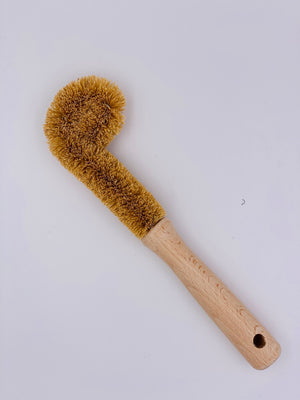 No Tox Life
Coconut Bottle/Jar Brush
Sale price Price $7.98 Regular price Unit price / per
Ideal for your mason jars and mugs that need a good cleaning, the Coconut Mason Jar Brush is a super durable and biodegradable addition to your cleaning supplies. 
While its size is ideal for mason jar-size dishes, this sustainable multipurpose brush will bring a deep clean to any space -- whether that's the kitchen, bathroom, or anywhere else in your home.  
Values
Cuts through tough grease and is safe on non-stick fry pans
Non-Scratch
Designed to get into hard to reach places
Easily removes mold
Naturally Antibacterial
Free from toxic chemicals
Biodegradable
Sustainable
Doesn't contribute to micro plastics 
The bristles on the Coconut Mason Jar Brush are made from sustainably farmed coconut husk - the outer part of coconuts - a waste product that is repurposed into useful products.
For the wood handle, we do not use the species Teak that is endangered, we use a different species called White Teak wood that is very fast-growing (similar to bamboo) and even considered a weed in some countries because it grows so quickly.
To use in the kitchen: Rub brush on the DISH BLOCK® to get some dish soap on it, then lather up on dishes. Or, for liquid soap, put the soap on the brush and wash dishes as usual. The medium bristles of this brush mean it can be used for regular cups, bowls and plates, as well as deep cleaning of pots and pans.
To use in the bathroom: This light-to-medium bristle brush is great for hard to reach of a jar, counter or travel mug. You can combine it with a baking soda paste cleaner or infused vinegar cleaner for deep cleaning of soap scum or mold. Make sure to rinse and place somewhere to dry when you're done to extend the brush's life.
Longevity: Each brush can be used for several months. Make sure to not submerge or soak the wooden parts in water. For best longevity, allow to hang to dry between uses and place in a dry spot after using it.
If you find your brush head is not staying dry, dip the bristles in vinegar occasionally to help kill bacteria. 
Continue using this brush until the bristles no longer work. Stop using the brush and replace it if you see any mold growth.
Storage and Care: To reduce cracking, keep the wood parts dry and do not soak or submerge them in water. Cracking is normal for uncoated brushes if you tend to get the wooden parts very wet. Leaving your brush soaked in water can also cause the brush bristle wire to come out and break. 
You can oil your brushes to reduce the potential of cracking if you regularly submerge your dish brushes in water. 
sustainable white teak wood / biodegradable brush / naturally antimicrobial