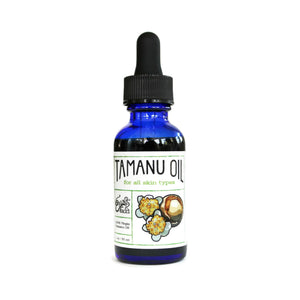 Erin's Faces
Erin's Faces Tamanu Oil
Sale price Price $40.00 Regular price Unit price / per
Get her a cape because this oil is a super hero!
Tamanu Oil is wonderful for all skin types that are in search of hydration.  Known for its antioxidant and soothing properties this little nut oil from Vietnam is ideal for so many skin concerns.  
Ours is:
ORGANIC

COLD-PRESSED NUT OIL
VIRGIN
100% TAMANU OIL - NO FILLERS
Tamanu Oil is full of: 

CANOPHYLLOL & CANOPHYLLIC ACID (purify skin)
CALOPHYLLOLIDE & XANTHONE

 

(antioxidants)
In a recent study Calophyllum Inophyllum, aka Tamanu Oil, was tested for its treatment abilities and the results are amazing - please read the study!*
"This product is really personal for me as I have had a time finding a moisturizer that doesn't break me out.  I'm pretty good most of the year with just our Clarifying Serum but when the weather gets colder I need something more and even our own products would break me out.  I went on the hunt to find something that targeted my skin type and Tamanu Oil changed my skin.  It's now soft, hydrated and happy year round, not just in warmer weather.
The oil does have a very specific smell to it - nutty, earthy/grassy, sometimes a little smoky - just as a heads up, but I found that after a couple of days I got used to it and my SKIN FELT AMAZING so I didn't care :)!"
How to use:
Use alone as your face/body moisturizer as the final step in your skincare regime
Use a drop or two in your serum/moisturizer to enhance hydration
Use on bug bites, sunburns, etc.
Use on stretch marks/scars**
Baby-safe for little bottoms 
Read through testimonials to see the variety of ways our clients are having success using our Tamanu Oil
Vegan.
1 oz. dropper in glass bottle
No added parabens, gluten, pthalates or fragrance (but not deodorized).
Disclaimer: For informational and educational purposes only.  These statements have not been evaluated by the Food and Drug Administration and are not intended to diagnose, treat, cure or prevent any disease.  If you have a health concern, a medical condition, are pregnant or breastfeeding or are taking any medication please consult your healthcare provider.
INGREDIENTS 
Organic Calophyllum inophyllum (Tamanu) Oil