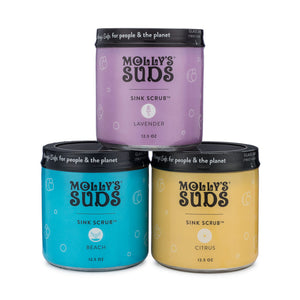 Molly's Suds
Molly's Suds- Sink Scrub
Sale price Price $12.00 Regular price Unit price / per
Hate the chore of cleaning out a grimy, smelly sink? We're right there with you. Make this task easier and faster with this gentle, aromatic sink SINK SCRUB™. It washes away grease, grime, and tough food debris while removing unpleasant odors.
We've got to be honest with you. There are dozens of DIY sink scrub recipes out there and they all work just fine. But if we're all being really honest with ourselves, whipping up your own sink cleaner is just one more thing on our endless to-do lists, one more minute spent cleaning, and one more step before we're finally out of the kitchen and onto that couch.
And that is why we've created our aromatic, gentle SINK SCRUB™. You don't need to add one more thing to your list of chores when we can check off it off for you. The attractive, simple glass jar sits ready and within reach so that when you're cleaning up, scrubbing down your sink is simple and fast. Just polish away that grime and food, while releasing a pleasing botanical aroma that leaves your spirits as shiny as your sink.
"I used it on the carpet, on my dog's fave spot to lick his paws, now it doesn't smell like his breath!" — Katie M.
"The fragrance is super strong and super lovely lavender. My husband calls it 'Schwarzenegger strong.'" — Megan V.
Product Details: 
Lavender – Calming, herbal aroma of lavender creates a peaceful, welcoming kitchen atmosphere.
Beach – This SINK SCRUB™ offers a warm, citrusy, salty and toasted coconut aroma. (Just be careful — it might inspire you to plan a beach getaway!)
Citrus – This bright and bold citrus scent uplifts and energizes, bringing some sunshine into even your least favorite kitchen chores. **We currently only have Citrus in bulk so you will receive it in The Green Tap jar instead of the Molly's Suds jar.**

Baking soda gently scrubs away tough dried food and grease without scratching your sink surfaces

Removes scratches from cast iron sinks.

Trade stinky sink smells for a beautiful, botanical aroma

Helps lift stains from natural stone, ceramic, and porcelain sinks

Safe for use on all common sink materials including porcelain, steel, aluminum, natural stone, cast iron, and copper

Reusable and recyclable glass jar

Naturally-derived ingredients that are safe for your skin, your sink, and the environment

Safe for those with fragrance and chemical sensitivities

Vegan and Certified Cruelty-Free by Leaping Bunny
Caution: Do not ingest. If contact with eyes occurs, flush thoroughly with clean water.