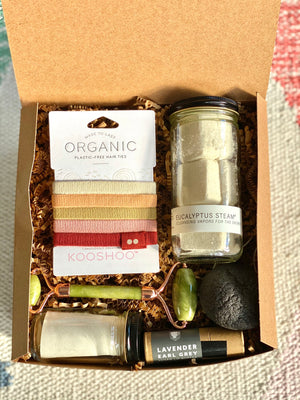 The Green Tap
The "Self Care" Bundle
Sale price Price $80.00 Regular price Unit price / per
Self Care is the best gift you can give to yourself. This gift will help others take some time for themselves in these crazy times!
Eucalyptus Steam Jar- No Tox Life- The cleansing vapors of eucalyptus are well known for deep support of respiratory health. These are combined with cooling peppermint for an awakening and refreshing shower. Just place one cube in the corner of the shower and let it dissolve and release the potent essential oils into the steam.
Grounding Body Butter- Hand made locally by Pure by KD in Verona. Massage it onto the body after bathing or use anytime skin feels dry or tight. (contains organic coconut butter, organic mango butter, kokum butter, organic jojoba oil and essential oils: organic lavender, copaiba, sweet orange, and organic atlas cedarwood.)
Jade Roller- This gorgeous Island Jade is great for lymphatic massage. It can help invigorate circulation and helps absorption of products.
Lip Butter- No Tox Life- This lip butter is packed with moisturizing organic cocoa butter and avocado oil and has wildcrafted plant wax in place of beeswax, making it vegan. It lasts 4-8 hours on your lips and has a matte finish.
Hair Ties- Kooshoo Organic and Plastic Free! Environmentally responsible, comfy, non-pulling and biodegradable! Comes in 2 color options.
Luna Charcoal Face Sponge- No Tox Life- These sponges come from Japan and use the roots of the konyakku plant. It is ideal for daily use, especially for those with sensitive or acne prone skin.