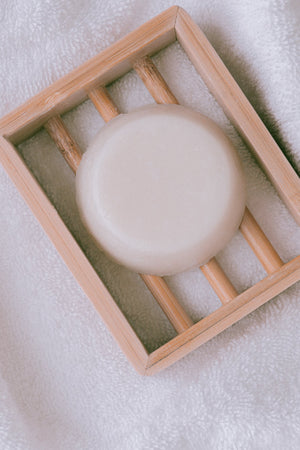 No Tox Life
Solid Seaweed Shampoo and Conditioner- For All Hair Types (No Tox Life)
Sale price Price $16.98 Regular price Unit price / per
UPDATED - new formula including macadamia oils and cocoa butter for healthy, soft hair.
Ditch the plastic bottle and try switching to solid shampoo. Infused with seaweed extract and macadamia oil, this shampoo is gentle and moisturizing for your locks. It rinses clean without needing vinegar, even in hard water. Super long-lasting and SLS-free too!
Suitable for all hair types, including color treated hair.
How to Use (Short version):
Wet hair thoroughly.
(most hair) Rub the solid shampoo on hair from roots to ends and massage until desired lather is achieved. A little goes a long way.
(brittle hair types) Create lather in hands, then rub hands on hair and lather.
Rinse well with water.

 

(no vinegar required)
Use our solid conditioner on lengths and ends.
Rinse well with water. 
Keep out of eyes! It is gentle but not designed to be used in the eyes, if you get a little in there then rinse gently with clean water.
This size:
1 oz. Make sure to store in a dry place between washes to extend the life. 
How long it lasts:
This size typically lasts one person 1-2 months (depends on hair length and thickness). 
Packaging:
This product is unpackaged and is wrapped in recyclable paper for shipping.
About our Ingredients:
Seaweed extract - imparts proteins and minerals to hair shaft to help with damage
Sodium lauroyl methyl isethionate - plant derived cleanser for gentle foaming - SLS and SLES free
Macadamia esters - a light version of macadamia oil to create shine and softness naturally
Cocoa butter - healthy and softening hair conditioning ingredient (from the cocoa plant) for shiny locks.
Sodium cocoyl methyl taurate - plant derived cleanser to remove built up oils and gently lift away grime - SLS and SLES free
Cocamidopropyl betaine - plant derived cleanser that helps with mildness on the scalp - SLS and SLES free
Sodium Cocoyl Isethionate - plant derived cleanser for creamy bubbles, exceptionally mild and gentle  - SLS and SLES free
Fractionated coconut - a lighter version of coconut oil that won't weigh down your hair but instead leave it lightly moisturized
Behentrimonium methosulfate (and) Cetyl alcohol (and) Butylene glycol - gentle plant-based conditioner to help reduce frizz and tangles and lock in moisture
Propanediol 1,3 - a corn and sugar derived moisturizer that reduces frizz
Sodium stearate - plant derived texture ingredient and foaming cleanser
Cetearyl Alcohol (and) Polysorbate 60 - non toxic plant based stabilizer and thickener
Phenoxyethanol (and) Caprylyl Glycol (and) Sorbic Acid - preservative to keep your bar fresh in the shower - paraben free
Essential oil blend - Rosemary, Eucalyptus, Mint - a clean and refreshing but light scent
Citric acid - preservative and pH adjuster - naturally found in citrus fruits 


Handmade by No Tox Life