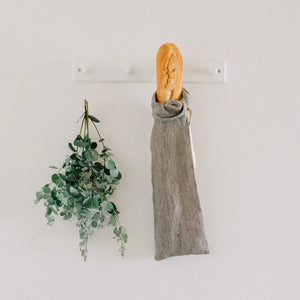 Helen Round
Striped Linen Baguette Bag
Sale price Price $34.00 Regular price Unit price / per
 This Dark Blue/Natural striped linen baguette bag is a stylish, eco-friendly way to store and carry french sticks. Made from dark blue and natural striped linen for a classic yet contemporary look, it's a perfect item for the well-stocked kitchen and would make a thoughtful, environmentally friendly gift or wedding gift.
Ideal for homemade or bought baguette bread, it makes the baguette or french stick easy to carry, with hopefully fewer broken baguettes, leaving your hands free for cheese, wine, olives, and other essential groceries! Perfect for picnics or for keeping your bread covered outdoors until you need it, this 100% linen baguette bag allows the bread to breathe while keeping the crust crisp. A great alternative to plastic.
We love it because: Fewer broken baguettes Lets the bread breathe Stylish striped design Keeps baguette covered until you need it Perfect for picnics Easy to carry
Washable at 30 degrees Great gift idea.
Size: 72cm x 15cm (28.5" x 6") Suitable for one standard-sized baguette
*Handmade, Eco-Friendly, Women-Owned, Small Batch
*Made in UK by Helen Round