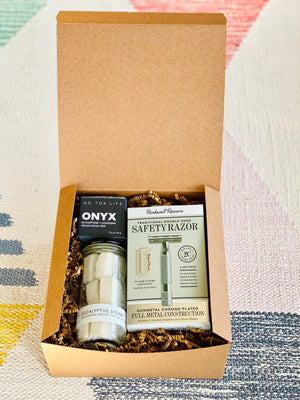 The Green Tap
Low Waste Gems
Sale price Price $58.00 Regular price Unit price / per
A simple, clean, relaxing, and green way to start off or end any day! 
Razor- Rockwell2C Razor. Improve your skin, stop plastic waste and save a fortune on shaving with this razor!  Eliminates bumps, razor burn, nicks, and irritation. 
Eucalyptus Steam Jar- The cleansing vapors of eucalyptus are well known for deep support of respiratory health. These are combined with peppermint for an awakening and refreshing shower. Place one cube in the shower corner and let it release oils into the steam.
Charcoal Face Wash- Charcoal facial soap is made with hydrating mango, shea, and coconut. Activated charcoal from coconut husks gently draw buildup of dirt, environmental toxins and makeup from pores. Protects skins without over drying it!