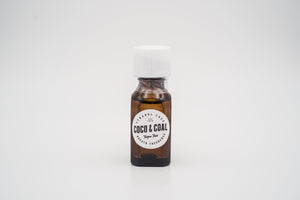 Coco & Coal
Coco & Coal- Tongue Tonic
Sale price Price $18.00 Regular price Unit price / per
Tongue Tonic our oil-based, Alcohol-free Breath Freshener gives you, minty clean, lasting fresh breath, and healthy pink gums. I don't even feel comfortable talking to people in public unless I've added a few drops of this to my mouth, but once I do, stinky breath be damned because it is the last thing on my mind!
A powerful proprietary blend of 100% pure essential oils of Orange and Spearmint, along with Hexane-Free Almond oil and Alcohol-Free Organic Stevia Leaf.
The best part about this product is its antimicrobial/ antibacterial oil. Because oil isn't water-soluble (remember the oil adage about oil and water) it does its job in a way that traditional breath freshener, just can't. It coats your mouth keeping bacteria at bay for an extended period of time leaving your body to do, what bodies do best, heal itself!